Enhanced performance
Hey Game Suite Fans! Check out Brick Buster, the latest game from TimWin. Click here to visit the Brick Buster web site.
TimWin's Game Suite is a collection of games... 5 Hand Poker, Box E, Crazy for Eights, Go 4 Elevens!, Flip Three, Pick a Pair, Triple Peaks, Poker Scramble, Rush to 21 and Word Scramble! If you are a card player, or enjoy word puzzles, download this game...you will not be disappointed!
Game Suite Requirements:
For the Game Suite to run you will need the Microsoft .NET Framework 4.6.1 or above.
Game Suite Installation:
Download or run the self extracting executable GameSuiteSetup.Exe. Once the download is complete, click on the Setup command button to launch the setup program. Once setup is complete you can run the game by clicking on your Start button, then select Programs and TimWin's Game Suite. If you ever need to remove the Game Suite, you may do so from the Window's Control Panel by selecting the Add/Remove Programs Icon.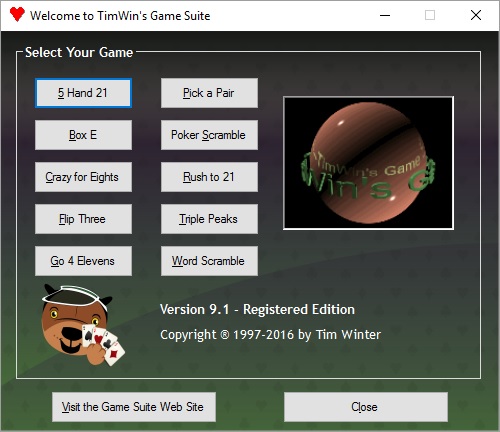 5 Hand 21: This game is for all of you folks that love Black Jack! In this game you are playing five hands of 21 simultaneously and trying to beat the clock at the same time!
Box E: Probably the best game yet! Here, you are presented with a grid of colored boxes. Select and remove boxes of identical color to earn points for the next round. The number of boxes and colors increases as you advance through the game. There is a timer involved so be quick!
Crazy for Eights: Based on the ever popular 'Crazy Eights', in this game you move cards into three piles based on their suite or value. As each pile increases your points go up. But keep a close eye on the clock!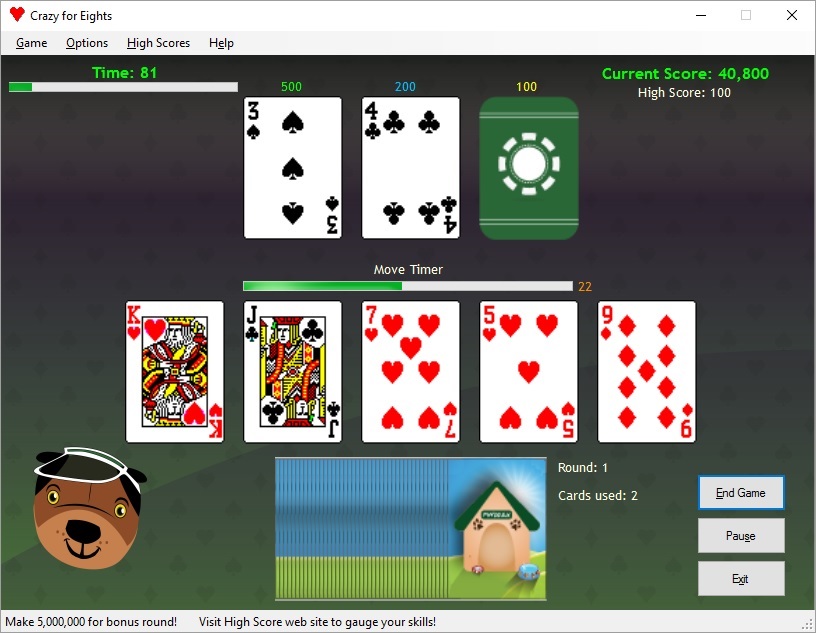 Flip Three: Flip Three is a spin off of 'Free Cell'. In this game you move cards to create Runs and Three of a Kind combinations while you race against the clock. This is my personal favorite!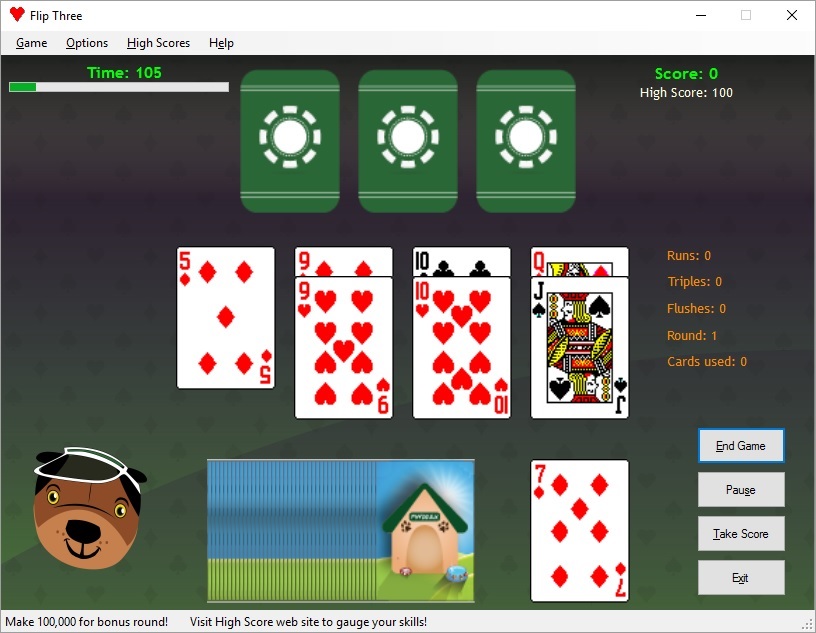 Go 4 Elevens: This is an exciting card game where you play against the clock to create card combinations that total 11. The game is fun and challenging for adults and is an excellent way for kids to learn math (and have fun at the same time). Go 4 Elevens now includes a new enhanced scoring routine which awards clearing the cards as opposed to creating eleven combinations. It gives a whole new challenge to the game. This new version allows you to play using the new enhanced rules or the old standard rules.
Pick A Pair: Pick A Pair is a fast paced game for the solitaire player. In this game you create pairs and runs in an attempt to clear the upper card area, racing against the clock at the same time.
Poker Scramble: In this fast paced game you attempt to create 10 poker hands on a 5X5 grid. The better your hands the higher your score...but you need to be quick...your score is also based on your speed!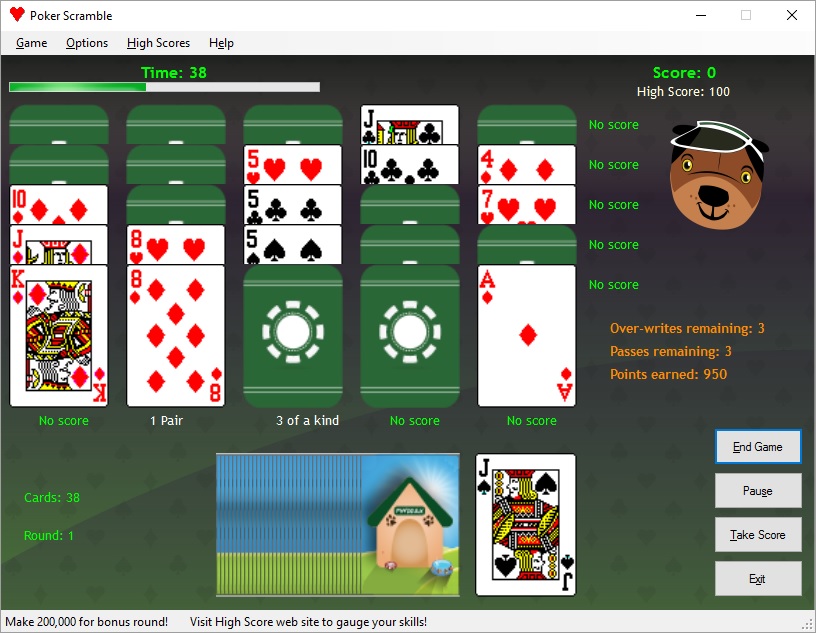 Rush to 21: Rush to 21is another game for all of you folks that love Black Jack! In this game you create columns of cards that total 21. Your score is based on the number of 21 card combinations you can create within a preset time period. The more 21 combinations you create, the higher your bonus!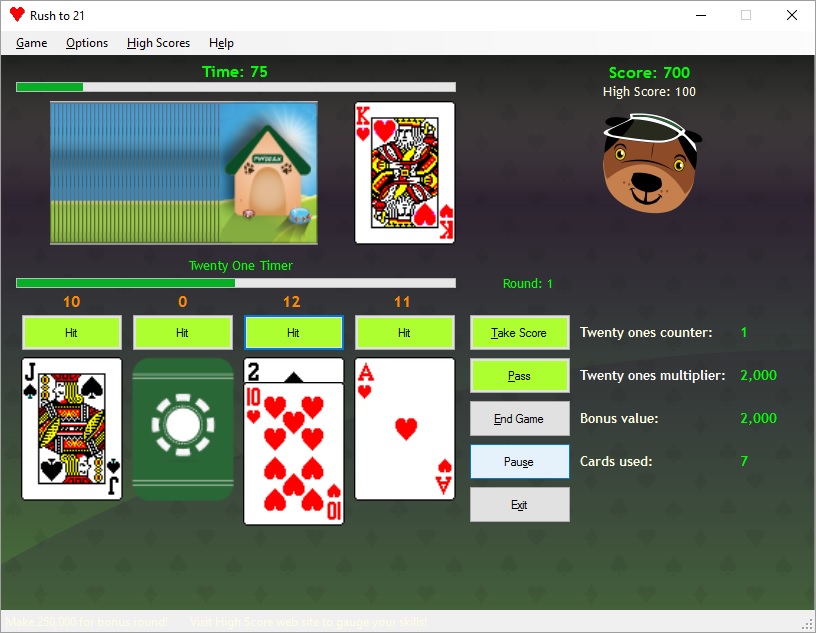 Triple Peaks: Triple Peaks is another exciting game for the solitaire player! In this game you create runs of cards for points and try to beat the clock at the same time!
Word Scramble: Version 6.0 introduced this exciting, fast paced game. Unlike the other games in the Suite, Word Scramble is not a card game. Instead, the player attempts to solve phrases by selecting letters of the alphabet. If you like Wheel of Fortune then you'll love this new word game!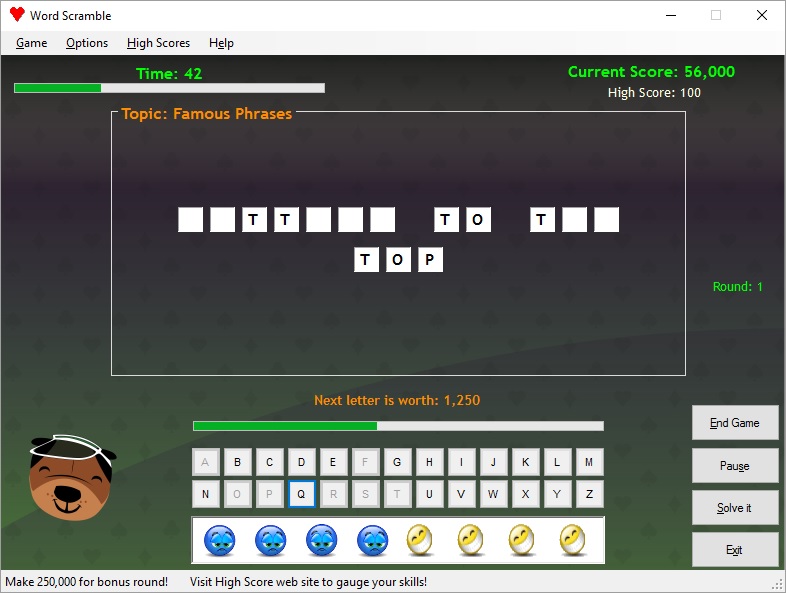 Game Suite Rules, Notes and Strategy
Please see the help file for strategy and help information.

Einleitung auf Deutsch

For Registration Information auf Deutsch click here.

Instant Registration
You can register TimWin's Game Suite instantly with a Credit Card. All you need is your Credit Card number and your Game Suite Product ID. For instant registration please click here. Note: You need to have the trial version installed to use this feature.

Registering through the mail
To register this copy via mail, send your Game Suite Product ID number, your E Mail or physical address, and a check or money order in the amount of $9.95 to:
Tim Winter
4313 Issaquah-Pine Lake Road S.E.
Unit 204
Sammamish, WA. 98075
NEW! Now available on CD ROM. When registering thru the mail and would like the game on CD ROM simply make a note to me that you prefer the game on CD! Please include your mailing address and an additional $3.00 for shipping, materials and handling.

When you register you will receive a registration number that will let you run in 'Registered mode'.
Recent recipient of the Sofotex 5 Star rating


Questions or comments?
For registration questions or other information please contact:
TimWin@MSN.Com

Good luck and have fun!